Posted by Janell Patton on Sept. 20, 2017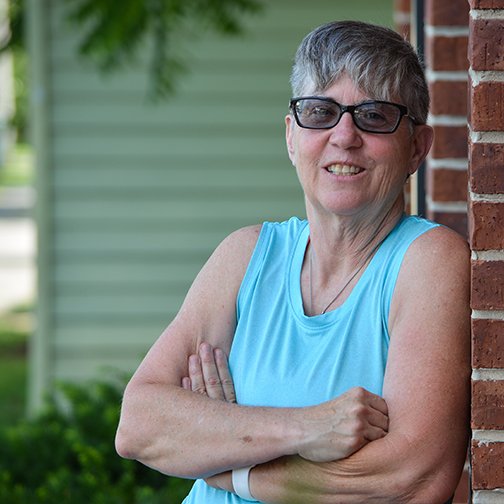 "It's a complete life changer for me," says MarySue Meyerhoven, a participant in the new Journeys From Home program at Cox Monett Hospital.
MarySue's journey began when she started taking spin classes at Cox Monett Hospital. After a few weeks, she wasn't losing any weight and Nancy Ridgley, her spin instructor, mentioned the Journeys From Home program. MarySue, a massage therapist who lived in Eureka Springs, Ark., at the time, says she didn't know what she was getting into, but she made a commitment to complete the program.
"The program is a way to reach people who aren't able to take the traditional classroom-style Journeys program because of work schedules, busy lifestyles or proximity," says Nancy, a licensed dietitian and certified diabetes educator. "We want it to be easy as possible so anyone can do this from the comfort of their home."
During the eight-week weight management program, participants meet once a week with Nancy via Skype or video. In between these face-to-face video meetings, Nancy emails participants to find out how they are doing with the program.
"I provide suggestions, recommendations and advice on how they can do things differently to help with their weight loss," she says.
Participants fax or email their food and activity logs to Nancy 24 hours in advance of the weekly meeting. Participants weigh in the morning of their meeting and send Nancy a photo of their scale or they can weigh in live during their weekly meeting.
"The program teaches you to be mindful about what you eat and Nancy holds you accountable," says MarySue, who stopped eating out at restaurants. "I also learned that you have to watch what you eat and you have to exercise."
Nancy helped MarySue fine tune her exercise schedule, which includes cycling outside and taking spin classes at Cox Monett Hospital.
MarySue has lost 42 pounds and she's committed to living a healthy lifestyle. 
Interested? Please call Nancy at 417-354-1280.